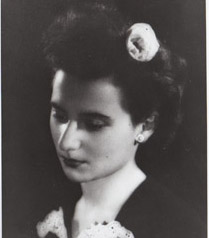 Beate Sirota Gordon
You might think you aren't a feminist or that Christianity and feminism have nothing to do with each other. I disagree. Feminism can take many forms. In Japan circa 1945, women were still treated as property to be bought and sold. They had virtually no rights at all - they could not vote, inherit or buy property. Beate Gordon was a part of changing Japanese history at the tender age of 22 by writing women's basic rights into the Japanese constitution.
What made her special? She was one of only a handful of people serving the United States who spoke fluent Japanese. She spent some time living in Japan with her parents. Her father was a renowned concert pianist and music teacher. She left Japan to study at Mills College in Oakland, CA where she majored in modern languages. She returned to Japan by securing a job as an interpreter for General McArthur, desperate to find her parents. She married in 1947! Wow. She wrote an auto-biography titled "The Only Woman In The Room." She recently passed away, just six months after her husband of many years.
Check out this article about her.