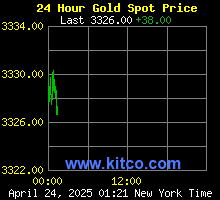 WATCH GOLD PRICES CAREFULLY! THE MARKET IS VOLATILE!! I have decided to hang onto my gold as of 10/20/08 when gold dropped below $800. As of 2/1/10, gold prices shot up. How I wish I had bought gold back then. Now is the time to sell!
I have some gold jewelry sitting around that is basically scrap; unused, unwanted and languishing in a drawer. However, these tight economic times are ripe for disreputable people taking advantage. I decided to look around on the internet and came up with a bit of a litmus test for who to sell to. Please feel free to poke around and do a Savvy Search but then come back to the places I have researched. The market is volatile, who knows if gold might someday top out a
$1500 an ounce.


GreenforGold.com :

1. Reputable--They give actual payout estimates quotes per ounce on their page. No smoke and mirrors guesswork.

2. Easy to recieve payment via PayPal or whatever method you choose.

3. They cover the postage and insurance.

4. They take out very little $$. When 24K pure gold was at $1200 per ounce. GreenforGold.com paid around $1100. Their website also tells you the current stock market value of gold. It's important to be informed so you don't get gouged. Oh to have bought gold when it was $300 an ounce and sell it now. Oh well.

Please note that I am sharing my savvy about my experience and a company that I think is reputable. I am not getting any kind of payback of any kind. You could also go through what I went through at a jewelry store:

Savvy: I'd like to sell my gold.
Manager: Oh, yes, we spoke yesterday.
Sav: Oh, wuld you mind telling me how much this particular piece weighs. I'm curious.
Mgr: Sure.
Sav: Hey, so what is it that you're doing, would you mind showing me?
Mgr: Sure, we have to do this test to see if it really is gold.
Sav: It is, but how does that work.
Mgr: Oh, it doesn't hurt the gold, see.
(It doesn't hurt it. It's an acid test Savvy found out later. They basically scribble on a scratch plate like a pencil but with your gold. If it is a substance other than gold, it turns a color.)
Sav: Oh, that's very interesting.
Mgr: The necklace weighs 69 grams. I'd be willing to offer you $600 for the items you brought in. (I brought in alot of items besides, but 69 grams--that's 3 Troy ounces. 14K gold is about 59% gold, so there are 2 oz of pure gold in that necklace. Gold was at $892 that day. Plus I had some rubies and diamonds on another necklace.)
Sav: Are you kidding me?
Mgr: The price of gold is down.
Sav: It's not down THAT much.
Mgr: Plus, we have to send it out to a refinery.
Sav: So, how about I send it myself? Thanks, but no thanks. (Gold hit an all time high of $1000 earlier this year. It is now climbing again because the demand for gold is increasing.)

I took my gold and walked out the door. It's a good thing I did.

Don't be undersold. Know what you are getting into. Get Savvy.

GreenforGold.com

If there are other companies that meet the same litmus test above, please put them in the comments and I will check them out. If they prove to be reputable, I will publish your comment.

1. Kitco, a Canadian company both buys and sells gold and is considered an authority. You can also boy gold which they will keep in an account for you. Hmmm, I'm thinking about it. But I have to start with an ounce and I currently have a negative net worth.

2. Things We Buy.com and Goldkit.com appear to be legitimate. Run by the same company, Lippencot LLC, they belong to the Better Business Bureau. Things We Buy purchases and resells fine jewelry, whereas Goldkit refines scrap gold. Goldkit doesn't reveal their payout system, however, if you aren't happy, you can send the check back and get your items back.